Arts & Culture
Performing and Visual Arts
York County offers a wide range of theater venues. Narroway in Fort Mill has been called "The Broadway of Christian Entertainment," and its dinner shows include original scripts, live animals, inspiring music, and a meal based on the performance's theme. The 6,100-seat Winthrop Coliseum hosts a wide range of events, including concerts and athletic competitions.
The Arts Council of York County actively promotes the arts in York County from its headquarters in historic Old Town in Rock Hill. There, it provides classroom space for community arts classes and studios for working artists and potters. The Community Performance Center seats more than 150 people and offers dance, theater, and music performances throughout the year. The York County Ballet is housed in its lower level.
Residents can enjoy local music and theater at venues such as the Rock Hill Community Theater and Remedy Church. Downtown Rock Hill, which hosts an annual jazz and blues festival, also is home to a number of small venues that offer live music.
Just minutes from York County are the many amazing performing arts venues found in Charlotte. For more information, visit http://www.charlottesgotalot.com/performing-arts


Museums
York County and Greater Charlotte are home to a fantastic array of museums. A few of our favorites include:
The Culture & Heritage Museums is a family of museums in York County, which includes Historic Brattonsville, the McCelvey Center, the Museum of York County and the Main Street Children's Museum in Old Town Rock Hill. Originally opened in 1950, the museum(s) have always included natural and cultural history. It is known for an impressive African animal collection as well as the Settlemyre Planetarium, and the museum has become a repository for the Vernon Grant collection of illustration art by the originator of Snap!® Crackle!® Pop!®, after the artist moved and settled in Rock Hill.
With an impressive collection and nationally renowned exhibitions, the Bechtler Museum of Modern Art has a mission to share the joy and excellence of the collection so everyone can be inspired, informed and have their cultural and intellectual life enhanced.
Located in Uptown Charlotte, North Carolina, the NASCAR Hall of Fame is an interactive entertainment attraction honoring the history and heritage of NASCAR. The high-tech venue, designed to educate and entertain race fans and non-fans alike includes artifacts, hands-on exhibits, a 278-person state-of-the-art theater, Hall of Honor, restaurant, NASCAR Hall of Fame Gear Shop and NASCAR Productions-operated broadcast studio. The 5-acre site also includes a privately developed 19-story office tower and 102,000-square-foot expansion to the Charlotte Convention Center.
Discovery Place is a great way to spend a day, whether you're by yourself or with a group, young or old. The facility features exhibits on anatomy, physics, natural science, machines, and much more.
The Mint Museum in uptown Charlotte houses the internationally-renowned Mint Museum of Craft + Design, as well as outstanding collections of American, contemporary, and European art.
Also located in the Charlotte, the Levine Center for the Arts features expansive galleries and a range of visitor amenities, including public spaces for learning, shopping, and dining.
The Afro-American Cultural Center obtains rich and historical exhibits that have become a showcase of African-American heritage. A theater, art gallery and amphitheater are venues for an ever changing, exciting array of culture.
Levine Museum of the New South seeks to relay Southern history from the days after the Civil War. Changing exhibits and complete interaction make the hands-on museum a place where learning and history are both fun and insightful.


Festivals
York County's cities and towns host some of the most popular outdoor festivals in the Carolinas, including Rock Hill's award-winning Come-See-Me Festival each spring that features food, live music and a frog-jumping contest.
The South Carolina Strawberry Festival in Fort Mill draws more than 60,000 people, Summerfest brings the fun into beuatiful historic downtown York, while Feis Chlobhair (the Clover Highland Games) celebrates the region's Scot-Irish heritage music, competition, dancing and traditional storytelling.
Rock Hill celebrates each December with Christmasville, where Old Town is transformed into an old-fashioned village and outdoor art festival with carriage rides, Dickens carolers, art, music, dance, an ice-skating rink, Santa activities and a gingerbread house contest.
Every summer, western York County's natural beauty and rural life is on display during the Ag + Art Tour, a self-guided trip that covers eleven South Carolina counties. This tour leads visitors through the area's farms, where they can see where their food comes from and children can enjoy hayrides and meet barnyard animals. Artists take up residence at the farms during the weekend, practicing their craft and selling their works, while musicians provide bluegrass and folk songs. More than 20,000 people have participated in the Ag + Art Tour since 2012, making it the largest free farm and art tour in the United States.
This is truly only a sampling of all the many activites to pick from all year long. Want to see more? Check out our friends at Visit York County to learn more about what keeps local residents and visitors alike entertained every single day.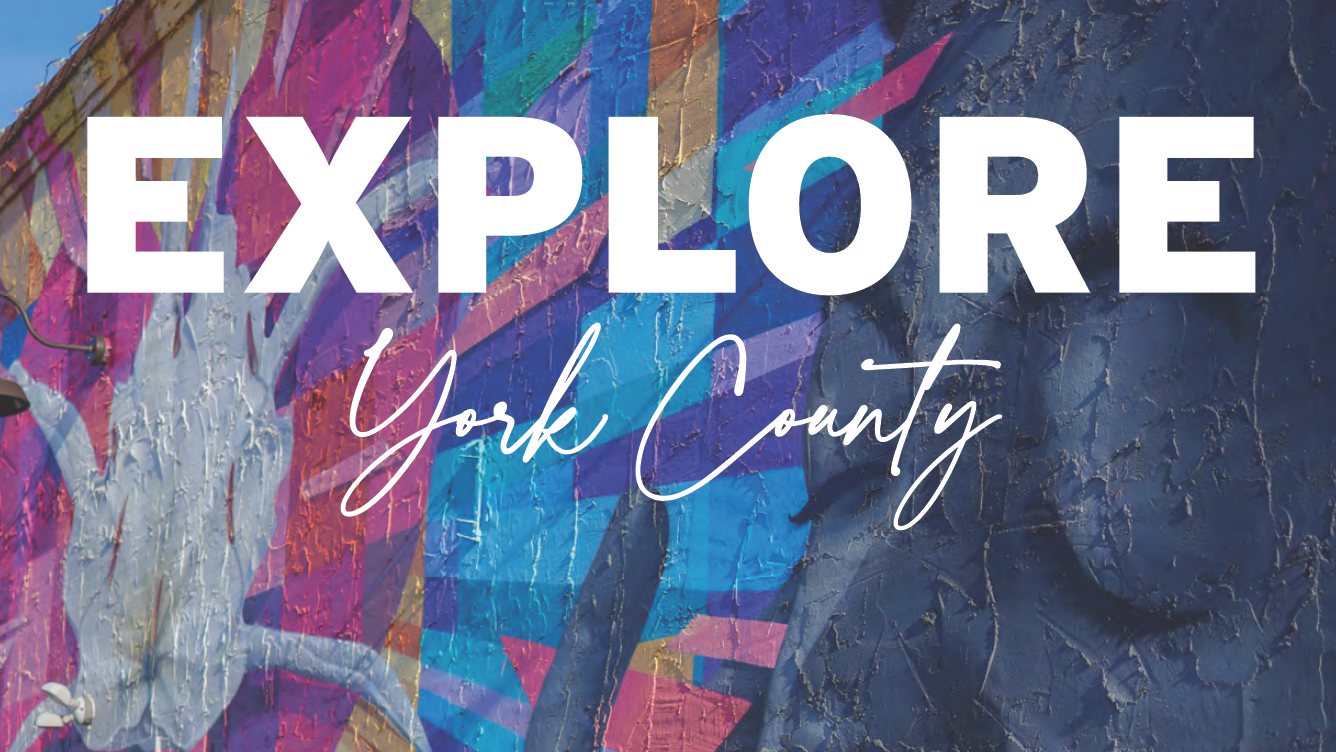 There is so much more to see and do in York County, including golf, as well as a diverse and growing food and bevearge scene. Be sure to check out ( and download) the York County, South Carolina Visitor and Relocation Guide (PDF)
Designed to be both a resource for residents and visitors alike, as well as those considering relocating their home or business to York County, this publication serves as easy-to-read, tangible tool filled with comprehensive information about living and working in York County!