Chemicals
Generally speaking, chemical companies convert raw materials into thousands of different products. A few well-known examples include adhesives, cosmetics, detergents, herbicides, household cleaners, and perfumes. In South Carolina, roughly 23,500 people are employed in the chemical industry. The synthetic rubber, paint and coating, and petrochemical subsectors are expected to grow in SC in the next few years.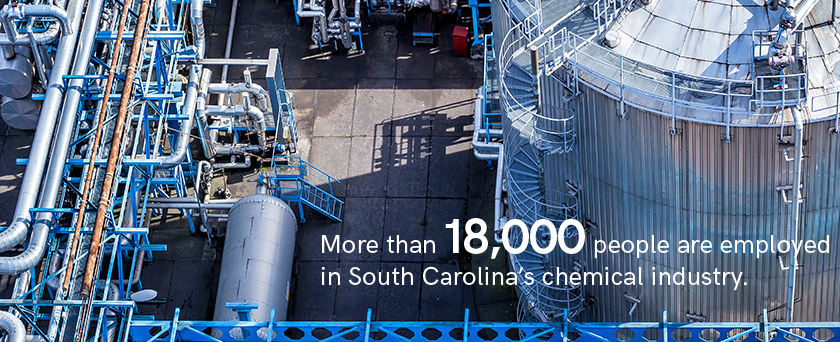 Some of the chemical companies in York County include Wikoff Color Corporation, Nation Ford Chemical Company, and Elkem Silicones. While you may not recognize the names, many of the larger companies in the chemical industry also happen to be some of the largest corporations on the planet.

To download an Industry Report for Chemicals in the York County labor shed click here.
Industry Snapshot
| | | | |
| --- | --- | --- | --- |
| | York County | Labor Shed | U.S. |
| Average Wage | $85,649 | $98,468 | $110,788 |
| Employment | 2,296 | 13,509 | 1,199,927 |
| 5 Year Average Annual Growth Rate | 15.7% | 39.4% | 8.0% |
| Location Quotient | 2.79 | 1.46 | 1.00 |
Source: Chmura Economics, JobsEQ; 2Q 2023


Home to two research institutions and 16 technical colleges, the Charlotte region and South Carolina offer a wealth of training programs and industry resources.
York Technical College
York Technical College's Science Department offers general education coursework to support numerous programs. The department also offers certificate programs with emphases in Biotechnology and Chemical Operations, and Environmental Sciences. The following are degree and corporate training opportunities in the field of chemical manufacturing:
Degree/Credit Programs:
Biotechnical & Chemical Operator certificate
Medical Laboratory Technology degree
Environmental Science certificate
Health Science certificate
Corporate & Continuing Education
MSSC Production Technician
MCCS Certified Logistics Associate
MCCS Certified Logistics Technician

Clemson University Chemical & Biomolecular Engineering
As one of the state's premier research universities, Clemson's Department of Chemical & Biomolecular Engineering offers M.S. and PhD degree programs. Research programs exist in polymer processing, rheology, fiber and film formation, supercritical fluids, separation processes, energy, kinetics and catalysis, biosensors and biochips, and membrane applications.
USC Chemical Engineering has been named in the Top 50 Best Graduate Schools and a Top 30 Graduate Program by the National Research Council. Annual enrollments in chemical engineering at USC have doubled since 2007.
Clemson University is 2.5 hours from York County.
University of South Carolina Department of Chemical EngineeringThe University of South Carolina offers undergraduate and graduate degree programs in chemical engineering with research focus on biomedical engineering, electrochemical engineering, materials and separations, catalyst design and evaluation, and computation modeling and molecular engineering.
USC is located in Columbia, SC, about 1 hour 15 minutes from York County.

Midlands Technical College Chemical Technology Program
Midlands Tech offers a certificate in Chemical Technology to prepare students for jobs as technicians and chemical engineers' assistants. This is a three semester program: one fall semester, one spring semester, and one summer session. Students receive their chemical technology education in classrooms and state-of-the-art labs on the Northeast Campus.
Midlands Tech is located in Columbia, SC, about 1 hour from York County.