Distribution & Logistics
When you consider York County is located in one of the fastest growing regions in the United States, it should come as no surprise that the transportation and warehousing industry is booming here. There are more than 50 transportation, distribution and wholesale companies in York County employing over 2,500 people.

Companies such as Ross Stores, McKesson, Stanley Black & Decker, U.S. Foods, and FedEx and third-party logistic companies like DHL and Elite Logistix all have facilities here.  In total, there are over 8 M square feet of warehouse space in York County and it's growing.  These companies understand the advantage of locating in York County and the logistics hub that has emerged in the Charlotte region over the past 20 years.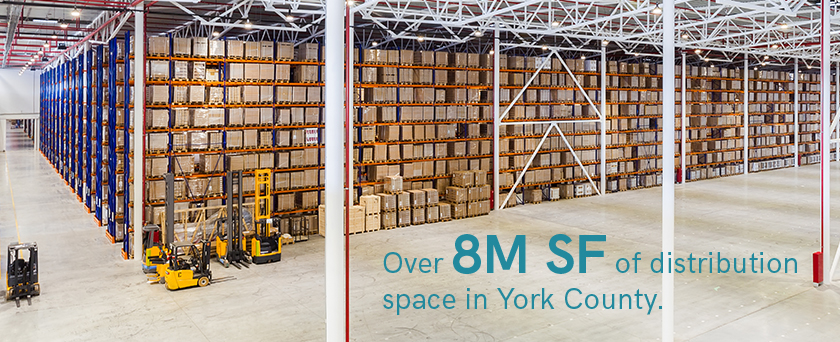 York County features an extensive, reliable and convenient infrastructure network that includes 22 miles of interstate highway access along I-77, 20 miles distance to the nation's 6th busiest international airport (CLT), an intermodal facility at CLT (20 miles), two Class I railroads operated by Norfolk Southern and CSX, and convenient access to the Port of Charleston (185 miles) – one of the nation's largest sea ports. South Carolina employs more than 47,500 people in the distribution, warehousing, and logistics sector.
Industry Snapshot
| | | | |
| --- | --- | --- | --- |
| | York County | Labor Shed | U.S. |
| Average Wage | $45,070 | $50,418 | $48,471 |
| Employment | 2,858 | 21,372 | 2,679,045 |
| % Employment Change ('12 - '15) | 90.60% | 22.00% | 12.40% |
| Location Quotient | 1.71 | 1.01 | 1 |
Source: Chmura Economics, JobsEQ; 2015
York County — in partnership with readySC, York Technical College and our local high schools — is dedicated to working with our new and existing companies to ensure that our workforce is both highly skilled and ready to go. 
Rock Hill Applied Technology Center
The Material Handling & Logistics Program curriculum, offered by the Rock Hill Applied Technology Center is led by an Advisory Council of local transportation and logistics companies.  The program is centered on the principles of material handling, movement, warehouse storage, and control and protection of inventory. The program includes a warehouse work-based internship for credit and is designed to prepare high school students to become a Certified Logistics Associate upon graduation. 
Material Handling Institute
Headquartered in Charlotte, the Material Handling Institute is the nation's largest material handling, logistics and supply chain association. MHI offers education, networking and solution sourcing for members, their customers and the industry as a whole through programming and events.
The Material Handling Institute is headquartered in Charlotte, 5 miles from York County.
York Tech Truck Driving Program
York Technical College partners with area and national trucking companies to prepare candidates for a career in a leading industry. The program lasts 6 weeks and costs around $3,700.  Students spend a minimum of 16 hours behind the wheel and are taught as a group. This program provides job placement assistance and is certified/accredited by SCDOT.
SC Logistics Cluster
The South Carolina logistics industry better facilitate the flow of goods throughout a consumer market. It focuses on efficient transportation both of goods and of employees, and provides data to economic developers and companies considering a SC location. It allows the state and its localities to have a competitive edge. The national average salary for logisticians is $74,260. The job growth rate is +2%.