Food Products
The food and beverage industry are comprised of companies involved in producing and sourcing food, the processing of raw food materials, packaging, and then distributing them into the marketplace. This includes fresh, prepared foods as well as packaged foods, and alcoholic and nonalcoholic beverages. Ample utilities including reliable power and affordable water rates, agriculture and livestock sourcing in rural areas with potential for farm-to-fork initiatives, an extensive transportation network, and our location in one of the fastest growing metropolitan areas (Charlotte MSA) in the country makes York County an attractive location for companies in the food products industry.
York County is home to Puckerbutt Pepper Company, home of the world's hottest pepper, Metrolina Greenhouses, Carolina Ingredients and several food distribution companies including U.S. Foods and Performance Food Group. In addition to these local companies, Snyder's-Lance is headquartered in nearby Charlotte and has a production facility in Mecklenburg County. Frito Lay also has a Charlotte plant which expanded in 2015, located on the York County border. Most recently, E. & J. Gallo Winery announced plans to build their new East Coast state-of-the art production facility and distribution center in neighboring Chester County.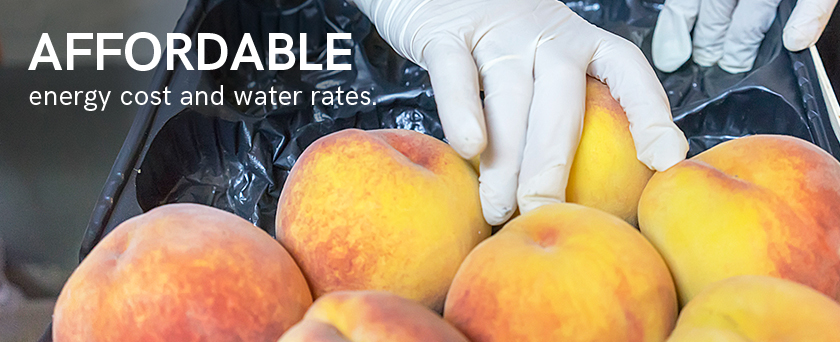 To download an Industry Report for Food Products in the York County labor shed click here.

Industry Snapshot
| | | | |
| --- | --- | --- | --- |
| | York County | Labor Shed | U.S. |
| Average Wage | $53,211 | $53,347 | $59,005 |
| Employment | 319 | 12,707 | 2,077,434 |
| 5 Year Average Annual Growth Rate | 15.3% | 13.9% | 9.4% |
| Location Quotient | 0.22 | 0.80 | 1.00 |
Source: Chmura Economics, JobsEQ; 2Q 2023
Clemson Cooperative Extension
Clemson Cooperative Extension is the primary public service outreach arm of Clemson University, offering education in agribusiness; agriculture; food, nutrition, and health; natural resources, and 4H youth development. These programs help to improve the economy, environment, and well-being of South Carolinians. Clemson Extension employs an Extension Agent in York County who works closely with state extension specialists and researchers located on campus and at the various research and education centers located across the state. The York County Extension Agent provides expertise in Agribusiness, Agronomy, Food Safety & Nutrition, Horticulture, Livestock & Forages, among many other areas.
The York County Clemson Extension Office is located at:
120 North Congress St. York, SC 29745(803) 684-9919


Palmetto AgriBusiness Council (PABC)
The PABC's mission is to define a common agenda for agribusiness and to advance it within the agribusiness community. It was established in order to create an environment where agribusiness could grow, proper, and compete in the marketplace of the future. It has members from various sectors including forestry, row crops, finance, insurance, landscape, utilities and more, and they collaborate with business sector partners to achieve their goals. The Council functions as the statewide economic development of South Carolina's agribusiness industry.
PABC is located in Columbia, SC, about 1.5 hours from York County


Johnson and Whales UniversityJWU offers several food-related programs at its Charlotte, NC campus, including Associate's Degrees in Baking & Pastry Arts; Bachelor's Degrees in Culinary Arts and Food Service Management; Food & Beverage Entrepreneurship; Restaurant, Food & Beverage Management, and more. They also offer recreational classes called "Chef's Choice" and "Wine & Beverage Education." JWU is a private university and is accredited by the New England Association of Schools and Colleges Inc.
JWU is located in Charlotte, about 35 minutes from York County.