Fort Mill's Kingsley Weaves Manufacturing History into Future
By Greg Lacour
Charlotte Magazine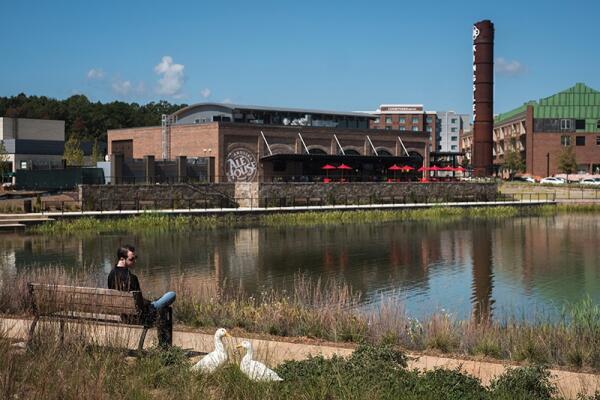 The smokestack rises 100 feet from this corner of Fort Mill, just off Interstate 77 and about eight miles south of the state line. It's decorative only, a kind of cylindrical billboard in the middle of a warren of brick buildings and an amphitheater perched at the edge of a 10-acre lake. The project's name, Kingsley, is spelled out in white block letters down the side of the smokestack, underneath the painted symbol of a cotton boll. On a warm afternoon in late August, the name announces itself to the traffic passing on U.S. Highway 21 as the percussion of nail guns and circular saws fills the air.
Two years ago, this was vacant property owned by one of South Carolina's largest landowning families. Now it's the toehold for what the Close family and the company it owns, Clear Springs Development, imagines as an economic launchpad for Fort Mill and York County—a 660-acre blend of retail businesses, apartments, hotels, dining, offices, and even hospitals that can induce corporations considering a move to the Charlotte area to turn their gaze south.
"The big picture for us is, as we diversify our economy, we know we have a setting where we can compete with Charlotte for those office park jobs," says David Swenson, executive director of York County's economic development agency.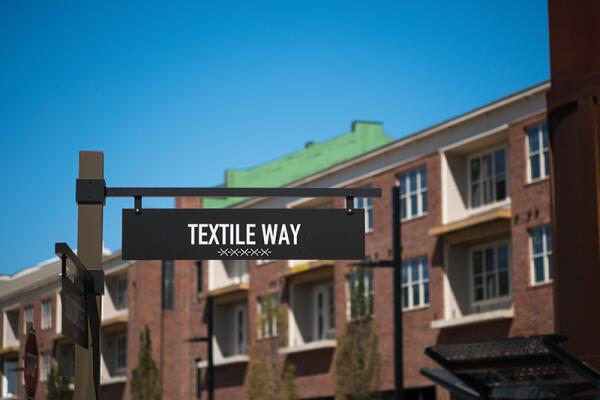 Kingsley incorporates something else you wouldn't necessarily expect from a brand-new development on formerly empty land: history. The Close family (whose members declined to be interviewed for this story) are descendants of Samuel Elliott White, who founded Fort Mill Manufacturing Company in 1887 and served as its first president. The company evolved into Springs Industries, one of the largest textile manufacturers in the world and the linchpin of York County's economy. But as the industry waned in the United States, and the region began to grow, the family thought more and more about developing some of its 7,000 acres in York County into a new economic engine for Fort Mill. The Closes founded Clear Springs Development in 1997. (Springs Industries merged with a Brazilian firm that took its operations to South America in 2007.)
The project was delayed for years while multiple hospital groups, including Carolinas HealthCare System, languished in a court battle over who would get to locate in the complex. Finally, in 2014, the state and county helped land a pair of major corporate clients: Lash Group, a patient support services company, and LPL Financial. LPL in particular wanted its employees to work in a genuine place—an area with the vibrancy of a downtown area without the hassles of an actual downtown. Kerri Robusto, the Clear Springs leasing director, says the project borrows the best aspects of other Charlotte-area developments, such as Ballantyne and Birkdale Village, to create a place that functions as home base, workplace, or both.
Clear Springs turned to 505Design, an architecture firm in Charlotte, to draw up plans. Designer Samantha Buell and the 505Design architectural team came up with a variation on the "contemporary mill" style prevalent in old factory renovations throughout the Carolinas, but folded into the new construction. The buildings that house Starbucks, Carolina Ale House, and Brixx are solid and foursquare, with corbeled arches, recessed cornices, and uniform punched windows—the kind of design details you'd have found at a Fort Mill industrial building from the late 19th century.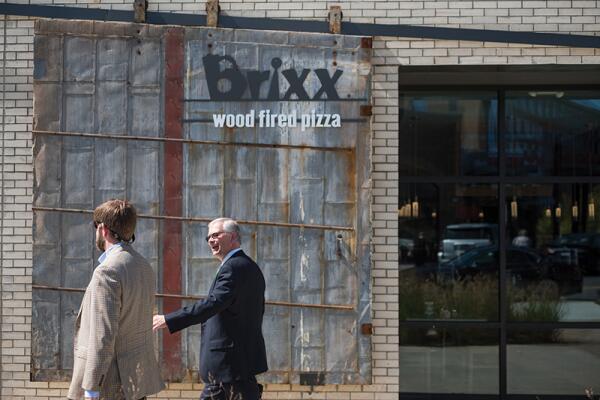 "It's kind of a 'foot in the present, foot in the past' approach," Buell says, "where we want to make a place that is kind of new and fresh feeling, but also makes people think about where it came from."
Kingsley—it's an old Springs-Close family name—is nowhere near completed. Of the roughly 660 acres, only about 110 are finished or under construction, and Clear Springs doesn't have a clear idea of when it'll be fully built out. But once construction on the first phase is finished next year, people will get a taste of what might be the future of commercial development in the Charlotte area, engineered to look like the past. "That was our point," Robusto says, "to design it so it felt like it's been here forever."
By the Numbers
7,000: Acres the Close family owns in Fort Mill
660: Acres set aside for the Kingsley project
110: Acres taken up by the project's first phase
129: Rooms in the on-site Courtyard by Marriott hotel
700,000: Combined square footage of the LPL Financial and Lash headquarters, both of which opened at Kingsley in 2016 and have room for expansion. Lash is building an additional 100,000 square feet.
View more news