Autonomous cars a top talking point at York County economic development summit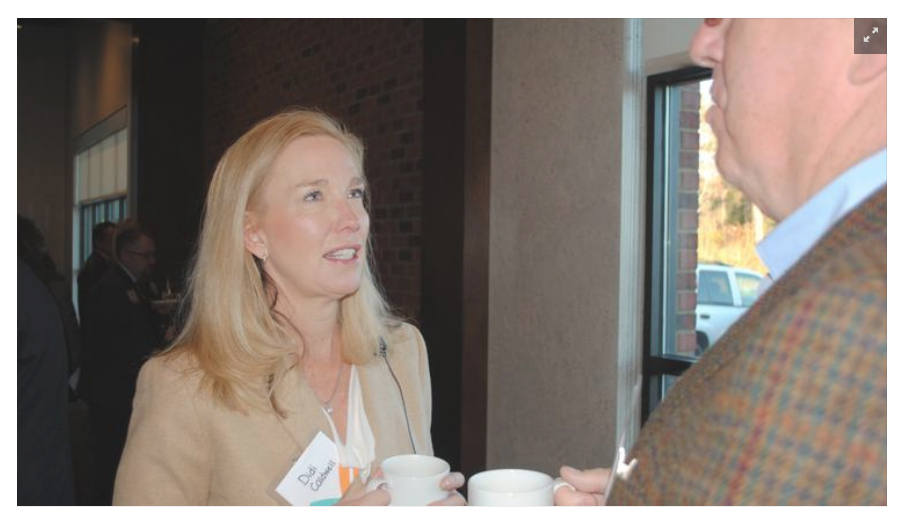 Didi Caldwll, Principal at Global Locations Strategies, speaks at York County Economic Development's annual summit in Fort Mill.


Artcile By:
By Ken Elkins – Senior Staff Writer, Charlotte Business Journal
Let's say an autonomous car drops you off at work in the year 2028 and then drives on to its next assignment or parks 10 miles away while waiting for you to summon it.
Now, Didi Caldwell, founding principal at Global Locations Strategies in Greenville, South Carolina, would like you think about all of the surface parking lots and parking decks that simply will not be needed in places like uptown Charlotte and at huge manufacturing sites like the General Electric Power System's gas turbine plant in Greenville.
"Technology is shaking things up," she says during Tuesday morning's York County Economic Development Summit in Fort Mill. "Think about those big chunks of metal and rubber that sit there for eight, 10 or 12 hours," waiting to take workers home from work.
She says automobiles in a parking lot or deck require an average of 162 square feet of space near worksites. That is more than four times the size of an average work cubicle of 36 square feet.
Developers look at the surface parking and parking decks in municipalities and see it as developable space for the future, she says. Use that GE (NYSE: GE) turbine plant in Greenville as an example, Caldwell says. It has 28 acres of parking on site.
"Think about what you can put on 28 acres," Caldwell says. The same applies to downtown Greenville and probably uptown Charlotte, she says.
She estimates that autonomous vehicles will be popular within the next 10 years.
Caldwell, who is a site selection expert specializing in industrial projects, also spoke about how York County and South Carolina are performing in economic development during the fifth annual installment of the county's economic development summit.
South Carolina is the third-most competitive among other U.S. states for industrial and other economic-development projects, Caldwell says.
"This is pretty competitive," she adds.
But taxes are high for corporations expanding and relocating to South Carolina, she says. Without a generous fee-in-lieu-of incentives, the state wouldn't be as competitive, Caldwell says. Those S.C. rules allow counties to accept a lower fee instead of a 10% assessment rate for industrial and commercial projects. They are used on virtually every large project and are indispensable, Caldwell says.
"Without the fee-in-lieu-of (rules), South Carolina cannot be competitive," Caldwell continues.
David Swenson, executive director of the York County Economic Development Board, says York County is doing well with economic development. It has been ranked in the top five in the country for job creation five quarters out of the last two years.
"We are a leader in this region," he says. "We're hitting high in our weight class for the United States of America."
During 2018, the county has added 2,143 jobs so far involving economic-development deals totaling $115 million. Its latest is RoundPoint Mortgage and its plans to bring 1,100 jobs and $34 million in investment to the former Charlotte Knights stadium site, now called Southbridge.
Still, the county has an unemployment rate of 3.3%, which is essentially full employment, Swenson says.
"It makes it hard for some of our employers to find employees," he says.
View more news