Forward Together: York County | Charlotte Business Journal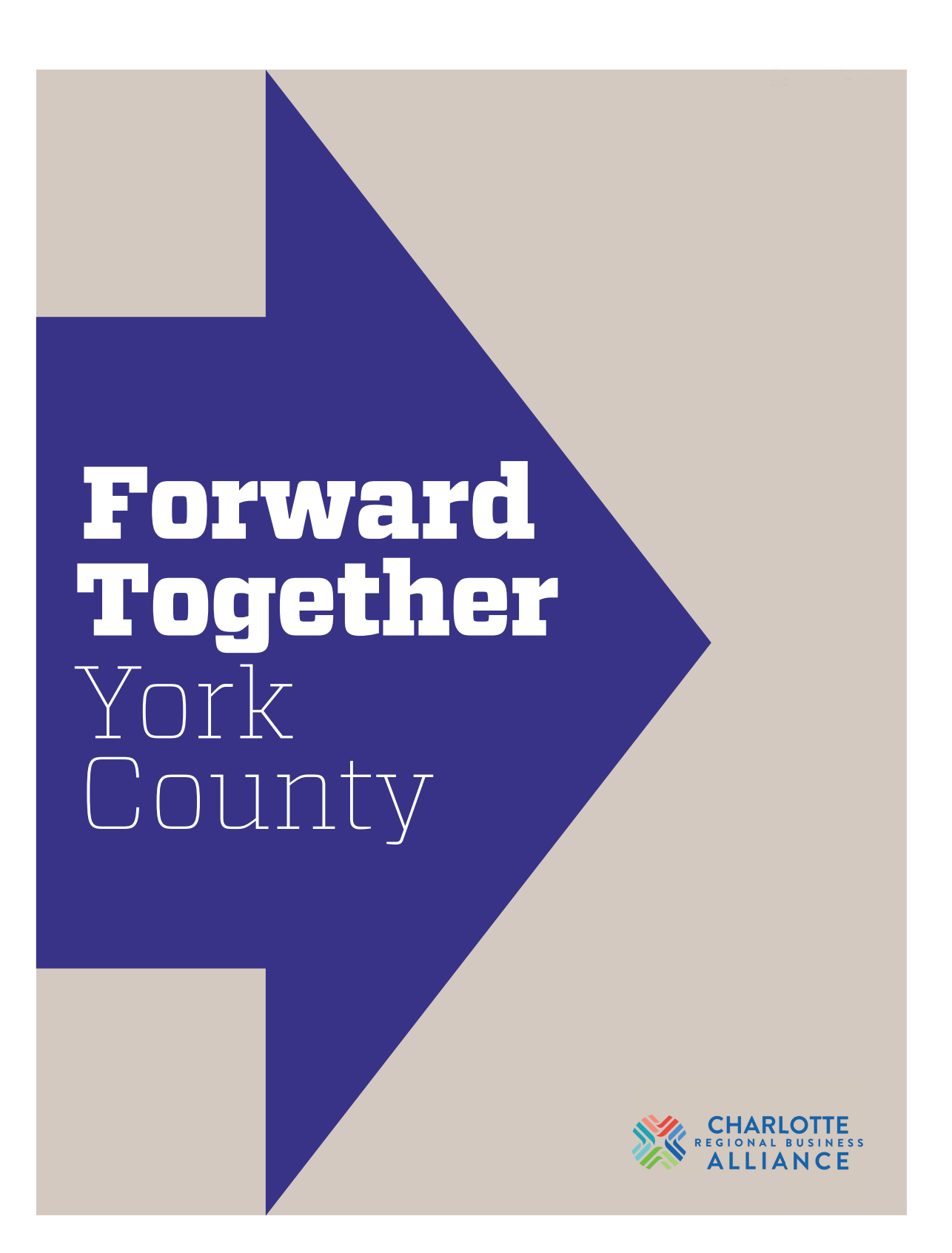 Growth is the story of York County, which has wielded a powerful combination of commercial and residential development over the past two decades to create a juggernaut on the south side of Charlotte.
"South Carolina is one of the most competitive cost locations in the nation for relocating families and retirees," says David Swenson, director of York County Economic Development.
With that growth has come the need to create more intelligent developments, fund major infrastructure projects, and prepare the community for an explosion of workforce needs.
Swenson made his comments as part of a panel discussion sponsored by the Charlotte Regional Business Alliance exploring the strengths and opportunities of the Alliance's 15-county region. Joining Swenson on the panel were Kerri Robusto, senior vice president of Clear Springs Development, and Stacey Moore, who was named this summer as president of York Technical College. TJ McCullough, president and publisher of the Charlotte Business Journal, moderated the discussion.
ON DEVELOPMENT
Clear Springs Development Company has been the guiding hand of some of York County's most familiar developments, including Baxter Village, Kingsley and Springfield. Clear Springs was organized in 1998 by the Springs family to oversee 6,000 acres of property in Fort Mill that was originally held by the Springs family. Anne Springs Close wanted to protect the identity of the town of Fort Mill and help it develop in a way that maintained its identity and allowed it to attract and support businesses and families.
"The family set aside 2,000 acres for the Anne Springs Close Greenway, which is the crown jewel of this area," Robusto says. "It was always important to the family that their legacy land be developed slowly and with intention."
For the past 23 years, Clear Springs has developed light industrial parks, office parks, and mixed-use projects in Fort Mill.
ON YORK COUNTY'S GROWTH
York County benefits from its suburban location to Charlotte with its airport and diversity of businesses, Swenson says. York County also benefits from affordability.
An attractive cost of living has helped York County attract tremendous investment. Since 2012, York County has generated 14,700 new jobs and $2.2 billion in new investment. York County has famously enjoyed success recruiting large businesses including LPL Financial, Lash Group, Shutterfly and Diversey.
While York's restaurants, retail and hospitality businesses took a hit in the pandemic – as they did everywhere – Swenson says the manufacturing and warehouse distribution sectors remained strong.
"We are positioned well," Swenson says. This year the county announced a $13 million investment by 3D Systems to create 50 new jobs, and Masonite International Corp., a door manufacturer, will expand and add 220 employees.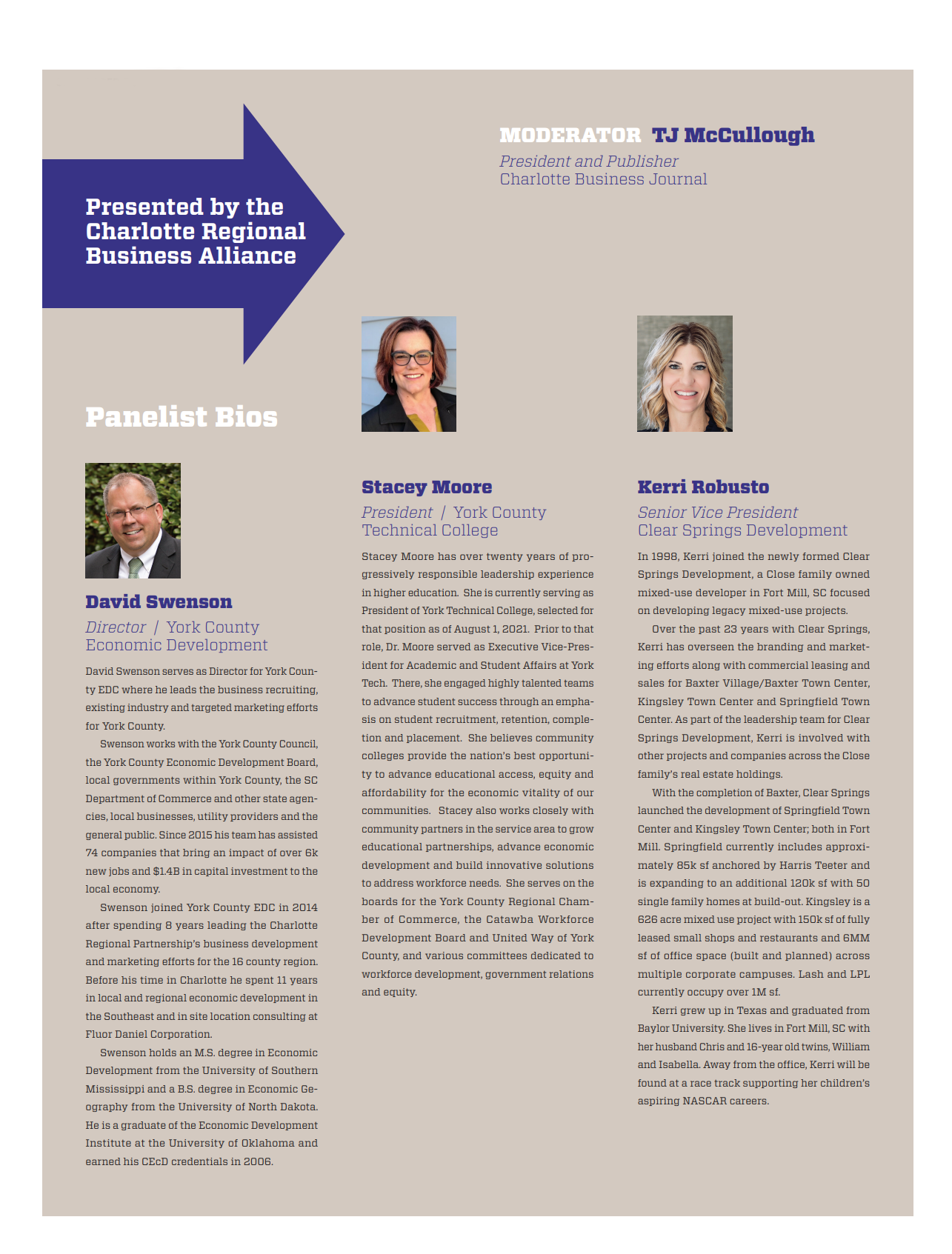 ON SMALL BUSINESS SUCCESS
Big businesses make the headlines, but panelists say the community equally supports its small businesses, retailers and restaurants.
"At Clear Springs, we are developing quality projects that businesses want to relocate to," Robusto says. "If you build quality places with purpose where people want to be and own a business, it's going to attract more."
At York Tech, Moore says the college tends to have the most success developing apprenticeship programs and other partnerships with small to mid-size businesses.
"We have got an incredible environment for small and med-sized industries and businesses, and we make it as simple as possible to partner with us."
ON WORKFORCE PREPARATION
Moore came to York Tech from the University of Akron in Ohio five years ago. She served as York Tech's vice president for academic and student affairs until being named president this summer.
Moore says creating a strong workforce pipeline in York County is dependent upon partnerships between the college and business and industry.
"Your more progressive community colleges are nimble, flexible and recognize the need for short-term credentials so that people can come in and out of the educational setting and not set aside two or four years of their lives," Moore says. "That's not reasonable for many people."
Such short-term credentials stack with other credentials to build the skills that employers need.
The biggest challenge facing colleges – and ultimately employers in the future – is the declining population of college-aged students, Moore says.
"Since the Great Recession, the birthrate has been declining. We call it the birth dearth," Moore says. "There are far fewer high school graduates coming over the next few years, which will impact the workforce too."
Instead, the focus will turn to adult learners who may need to gain new skills to fill important jobs in the economy.
"We have got to help more people see viable options in advanced manufacturing, health care, information technology, business entrepreneurship, accounting and finance," Moore says of the most in-demand skills.
Unfortunately, Moore says, advanced manufacturing usually doesn't even make it in the top 10 list of occupations most high school and emerging college students consider.
"There is work to do to remove the negative stereotype and myths about manufacturing so people can see the incredible, innovative environment manufacturing now represents."
Moore says nursing is the degree most York Tech students want to pursue – and that's good because there's demand – but it's also the most expensive program for the college to run. Another high-interest degree is early childhood education.
"It's wonderful, but it's a saturated and low-paying market," Moore says.
Moore says there is robust enrollment in IT and cybersecurity; lots of interest there. But, she said, there should have even more people coming through. "The workforce challenge is real and a sign of the times right now."
ON FUTURE CLEAR SPRINGS' DEVELOPMENT
Clear Springs Development has given York County the signature developments of Baxter Village, Springfield and Kingsley, but it's not done yet, Robusto says.
"We have only scratched the surface of the projects we have."
Another 350 acres remains to be built in Kingsley along with another 5 million square feet of commercial space. Robusto says that development is on hold while road improvements happen near the development and the new hospital under construction.
Clear Springs broke ground in May on the second phase of Springfield Town Center anchored by a Harris Teeter grocery store. The newest phase will include 115,000 square feet of commercial space and 50 single family homes.
In addition, Clear Springs owns an additional 850 acres entitled for 150,000 square feet of commercial space and 845 residential units. Part of the property reaches the Catawba River.
"We have the benefit of a very patient family behind us that is more focused on quality over quantity, so we can take our time and do things right. But we are excited to be here contributing to the desirability of this area and the continued smart growth," Robusto says.
ON YORK TECH PARTNERSHIPS
York Tech has built strong relationships with public school districts as they represent the best opportunity to build a workforce pipeline, Moore says.
High school students with dual enrollment at York Tech are earning college credentials at the same time they are completing high school. Some high school students are earning EMT or paramedic certificates while still in school. Other opportunities for high school students including the fields of industrial maintenance, machine tool technicians, pre-nursing, personal trainers, cybersecurity and even utility line workers.
"Our dual enrolment is growing steadily. We have two early colleges on our campuses."
More businesses are offering apprenticeships to students – some as young as 16 – as they work to build future employees.
"Our apprenticeship program has quadrupled in the last two years," Moore says. "Our placement rates are so high that if employers wait for graduates to finish their degrees, they won't be able to hire them. They must come in early and support them so that they become the loyal employees companies need."
The other opportunity is for colleges to capture the millions of people who have some college credits but who never completed their credential. Those students are closer to graduation than they think, Moore says, and they have the opportunity to return to school and finish quickly with credentials for a high demand field.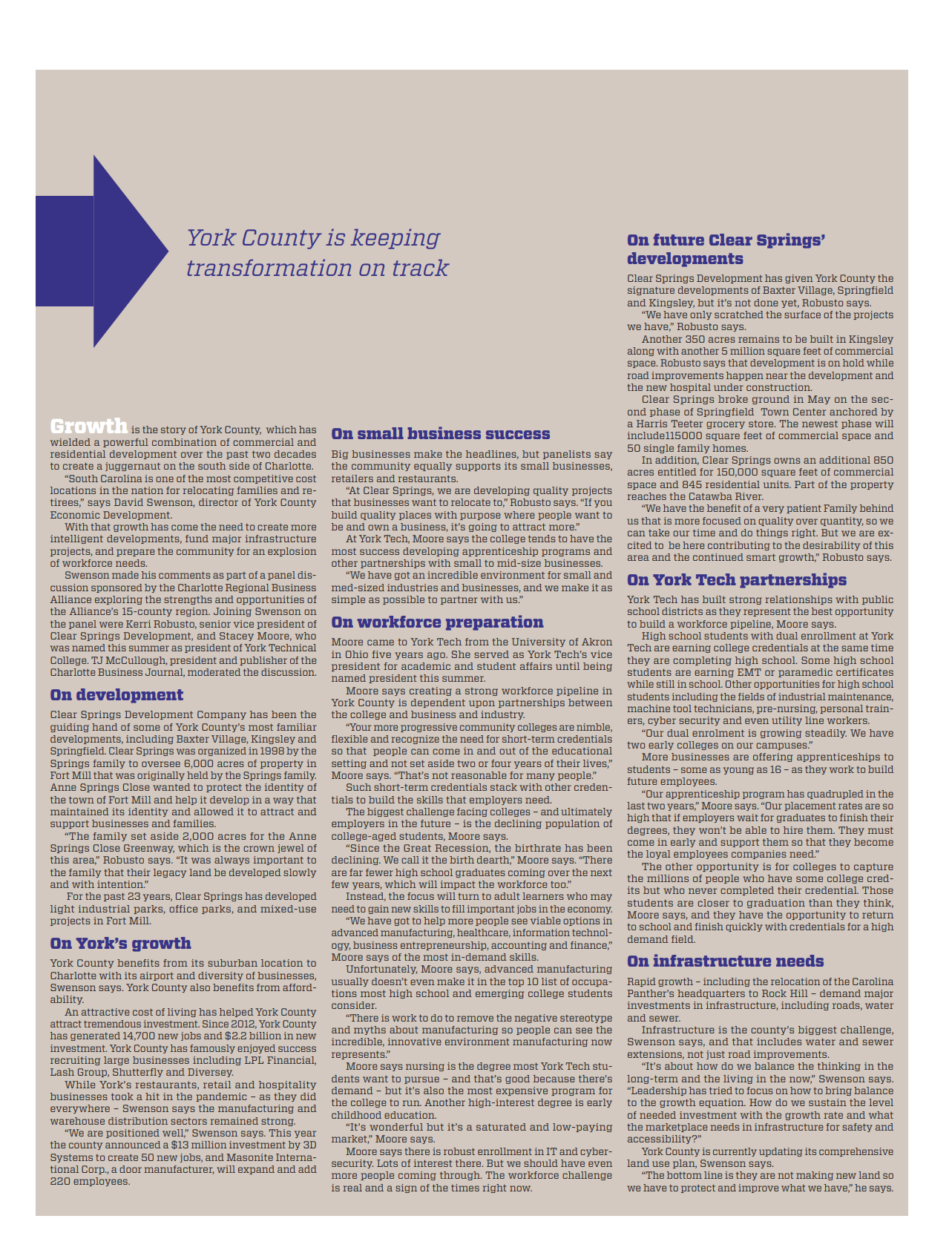 ON INFRASTRUCTURE NEEDS
Rapid growth – including the relocation of the Carolina Panther's headquarters to Rock Hill – demand major investments in infrastructure, including roads, water and sewer.
Infrastructure is the county's biggest challenge, Swenson says, and that includes water and sewer extensions, not just road improvements.
"It's about how do we balance the thinking in the long-term and the living in the now," Swenson says. "Leadership has tried to focus on how to bring balance to the growth equation. How do we sustain the level of needed investment with the growth rate and what the marketplace needs in infrastructure for safety and accessibility?"
York County is currently updating its comprehensive land use plan, Swenson says.
"The bottom line is they are not making new land so we have to protect and improve what we have," he says.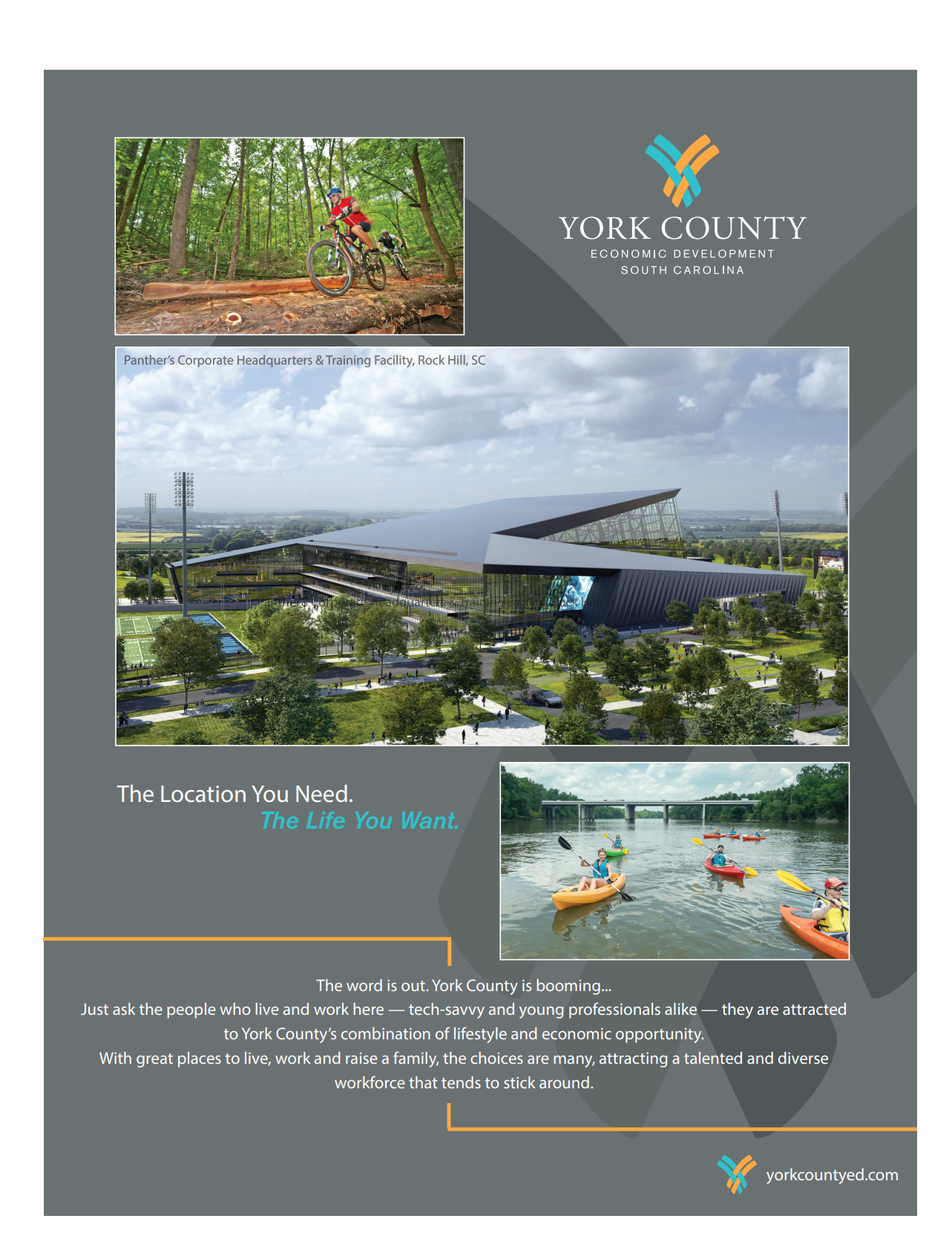 View more news