Kingsley Park to close out with final building that includes spec office space
Ken Elkins, Senior Staff Writer
Charlotte Business Journal
Across S.C. 160 from Kingsley, Kingsley Park is adding its seventh and final building to the business park.
Developed by Clear Springs Development Co. and Childress Klein of Charlotte, the park gains some much-needed speculative office space for York County.
"You've got to keep putting product out there," says Paul DeVine, partner at Childress Klein. David Swenson, director of the York County Economic Development Board has asked developers to build more speculative office space, Devine says.
Two floors in the 60,000-square-foot building, which should begin construction within the next few weeks, don't yet have a tenant.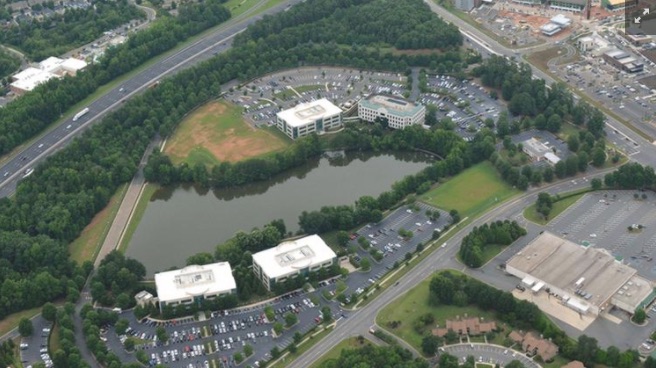 Childress Klein has signed AccessOne, a medical software firm that's already in Kingsley Park 4, to occupy the entire third floor. That means that AccessOne will expand into 20,000 square feet in the new building, called Kingsley Park 7.
The building should be ready for tenants in May 2018.
DeVine says the full Kingsley Park is a testament to a successful partnership between Childress Klein and the Springs family. The members of the family and executives who run Clear Springs are "patient" investors in Kingsley Park and Kingsley.
"They think generationally," DeVine says of the Springs family.
Members of the family also take an active role in recruiting companies that will become part of the Fort Mill community.
One of the best examples of that is Domtar Corp., a tenant in Kingsley Park. Domtar executives and other employees are very active at Anne Spring Close Greenway, the family owned, 2,300-acre nature preserve nearby.
Another example is planning for Kingsley, DeVine says.
"It was master-planned for 15 years before we ever stuck a shovel in the ground," he says.
Childress Klein also participated in the planning of Kingsley and developed the campuses for both LPL and Lash there.
Now the second Lash building, a 176,000-square-foot structure, along with a 1,200-car parking deck, is scheduled to open in February 2018.
View more news