Lash Group now up to 2,900 employees at Fort Mill campus
Article By:
Ken Elkins, Senior Staff Writer
Charlotte Business Journal
(Photos Melissa Key, CBJ)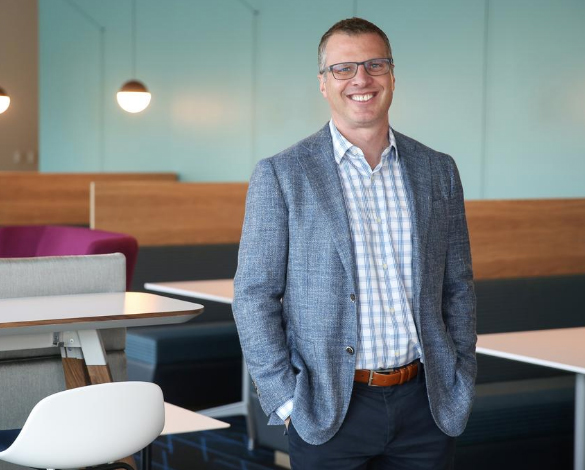 Tommy Bramley says Lash Group in Fort Mill is here to stay after building 423,000 square feet in two buildings in the new Kingsley area in York County.
It's the largest campus of the three major operations for Lash. Other office centers are located in Monroeville, Pennsylvania, outside of Pittsburgh, and Frisco, Texas, near Dallas.
"We're looking to grow," says Bramley, president of Lash. "We have the strategies in place, we feel we have the right infrastructure in place to support that growth."
Bramley predicts that those three campuses will be growing in headcount in the coming months, but he declined to estimate numbers.
Lash moved to Fort Mill from Charlotte in 2016 and said then it could post as many as 2,500 employees at the site. As if to prove that Lash is in Fort Mill to stay, the company now has 2,900 employees and a new building and parking deck in Kingsley. Parking is hard to find on campus after the actual hiring number exceeded Lash's estimates.
The second building, which opened in May, contains 1,300 of those employees and lots of collaboration space. One of those rooms is called the "Kitchen" room as an homage to the fact that the company was created around founder Peyton Howell's kitchen table 26 years ago in Charlotte. Others include the "Einstein," "Immersion" and the "Bridge" in honor of Star Wars movies.
These folks are fond of slogans, sayings, names and guiding principals, most of which are emblazoned on the walls. The section of the new building is divided into communities such as "Knowledge Park" and "Compassion Trail."
Inside, at places like the Hug-A-Mug coffee café, Lash employees use their own permanent mugs and cups. No disposable cups are dispensed in the various cafes and coffee-break areas of the buildings.
Bramley explains that rule is a concession to sustainability.
Lash execs and employees are also concerned about employee wellbeing and career development. Employees are encouraged to take centrally located stairways instead of elevators in the three- and five-story building on the Lash campus.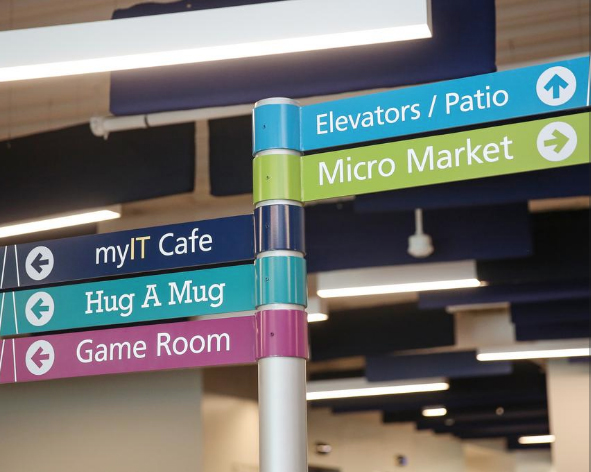 And, yes, there are signs in the stairwells, counting the steps for exercise as well as an inspiration phrase or two.
For career development, Lash has the PACE program to guide employees who want to move into management. Workers are also recognized for meeting company goals.
Plus, there's a cubicle-decorating contest occasionally to keep spirits and motivation high.
"You take care of the people and the business will take care of itself," Bramley says.
Bramley, 44, came to Fort Mill from Salt Lake City, where he worked at another unit of AmerisourceBergen, Xcenda, but he's spent time in South Carolina. He has a doctorate degree in health-care economics from the University of South Carolina. His pharmacy degree is from Drake University.
He was hired as Lash president in November 2017 and relocated to the Lash 1 building, which had been open about a year.
Lash Group works on behalf of health-care providers and pharmaceutical companies to help patients navigate the health-care system. Lash in a unit of AmerisourceBergen Corp. (NYSE: ABC), a drug wholesale based in Chesterbrook, Pa.
Earlier this year, The Wall Street Journal wrote that Walgreen Boots Alliance (NASDAQ: WBA) was interested in buying AmerisourceBergen. But Bramley says he can't talk about what he called "speculation" because the company is in its quiet period around the time of earnings release.

Lash is also committing to improving the Fort Mill community. Employees are given hours off work with pay to volunteer in the community. Vendors are hired locally. Instructors from the local YMCA are brought in for fitness classes.
View more news