Rock Hill schools, York Tech open doors for students and their career
BY AMANDA HARRIS
aharris@heraldonline.com
ROCK HILL
High school students in Rock Hill will soon have the opportunity to get a jump start in preparing for careers and college.
York Technical College announced Tuesday a dual-credit program partnership with the Rock Hill school district. The college has a history of dual-credit programs with local schools.
York Tech will offer Rock Hill high school students dual enrollment career and technical programs in which they can begin taking courses for college credit before they graduate, said Stacey Moore, executive vice president of academic and student affairs. Students may continue the programs at York Tech after graduation.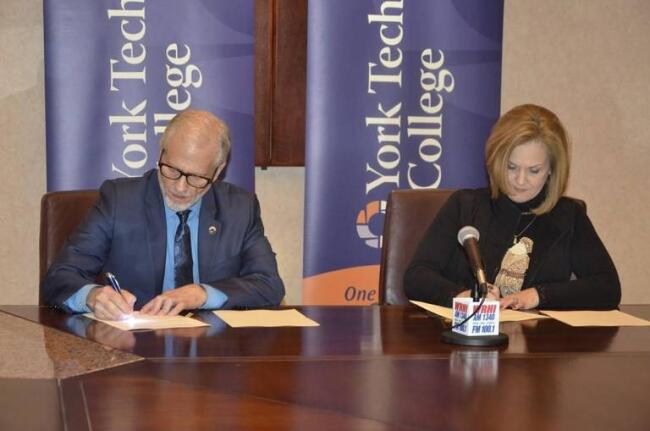 "They are in a complete pathway that includes their high school classes as well as the college courses," Moore said. "All the students who complete these pathways will be work ready."
Thirteen programs – including welding, automotive collision repair, engineering technology, patient care technician, nursing care, personal trainer and digital arts – will be offered starting in fall 2018. The programs are designed to prepare students for high demand, high paying jobs, and open the door to higher education, Moore said.
Moore said York Technical College is working toward offering high school students a way to earn an associate degree before they graduate.
"The whole idea is to get them one or more college credentials, ideally before they graduate high school," she said. "It limits their time and significantly limits their cost for higher education."
Dual credit programs are possible under the South Carolina 2005 Education and Economic Development Act, which supports programs designed to prepare students to enter careers or continue their education.
Rock Hill schools Superintendent Kelly Pew and York Technical College President Greg Rutherford made the partnership official Tuesday.
"For our students to be able to earn credits for college while they are in high school is just outstanding," Pew said.
South Pointe High School senior Haylie Casanova, 17, said the dual enrollment program has helped her understand what college will require. Casanova is in a health sciences dual credit program that kicked off early in Rock Hill schools.
"I think it helps you adjust to the amount of coursework you are going to be given," she said. "It's such a big difference compared to the high schools and what you are used to. I would recommend it to any students who have the opportunity."
The dual credit opportunities benefit both the students and companies who are looking to fill jobs with qualified candidates, Rutherford said.
Pew agreed. "We know that our community is telling us they need a skilled workforce," she said. "There are high-paying positions out there for our students. This is a great partnership."
The programs also help offset the cost of higher education, Rutherford said.
"This is a really optimal opportunity for these students because we are faced with a very serious situation in our country today, and that is the out-of-control cost of higher education," Rutherford said. "The reality is that parents are in a dilemma. They want their children to have the very best but they are in this spot because they see so many people that have so much debt and are unable to support themselves."
York Technical College is also offering a no-cost option for Rock Hill students who qualify for free or reduced lunch to participate in dual credit courses, Moore said. She said the program is the first of its kind to do so.
"We've diligently worked to increase the opportunities for all of our students for social mobility," Moore said.
York Technical College President Greg Rutherford and Rock Hill Schools' Superintendent Kelly Pew made a dual credit partnership official Tuesday.
View more news