Schaeffler still growing S.C. bearing plants as it completes $164M expansion in state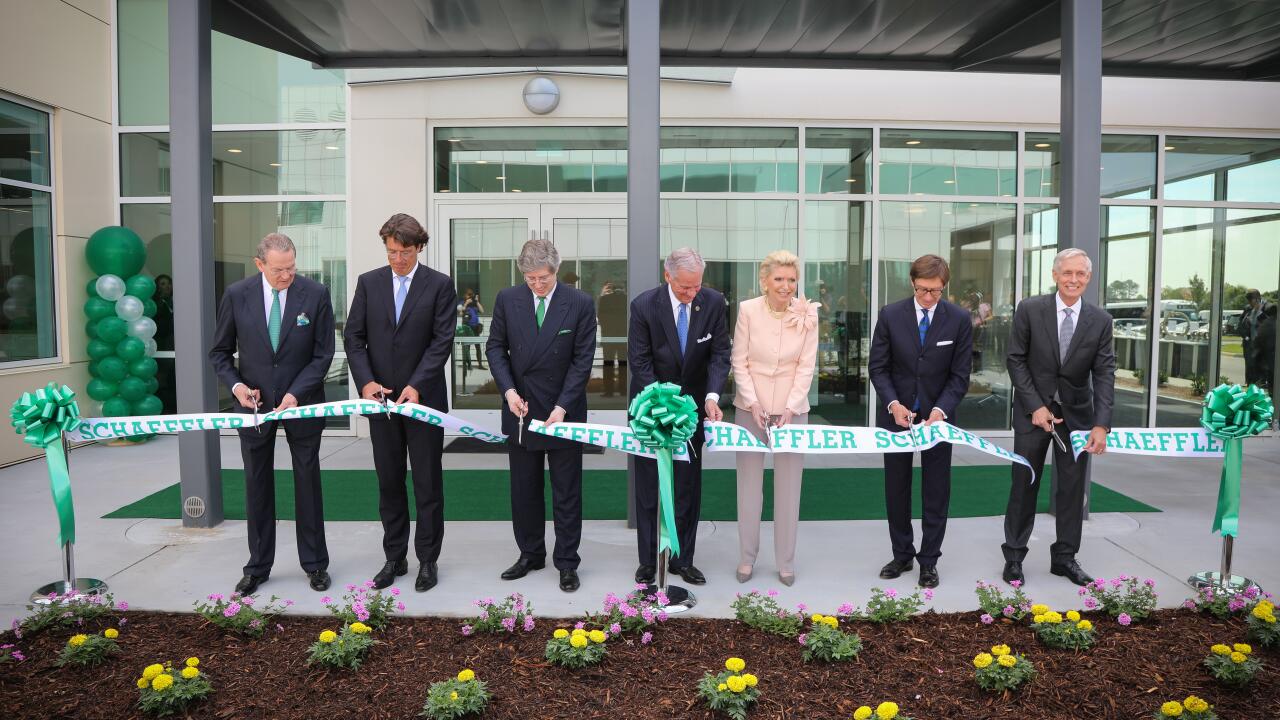 BY: Ken Elkins
Senior Staff Writer
Charlotte Business Journal
Fresh off a $36 million expansion that bought Schaeffler Group USA Inc.'s Fort Mill Plant 1 to close to 500 employees, the German-owned company believes that number will be closer to 550 by 2020.
S.C. Gov. Henry McMaster and about 115 guests were busy Thursday celebrating that last expansion when Michael Pees, Fort Mill 1 plant manager, unveiled the number 544 on a video display. That's the projection for employment at the factory by 2020. By 2020, the plant will also increase production of its bearings and bearing assemblies by 50% to 150 million a year.
Pees says the key to that expansion — beyond a booming business for its automaker customers — is the workforce that Schaeffler has found in South Carolina.
"The foundation of our plant are our employees," he says.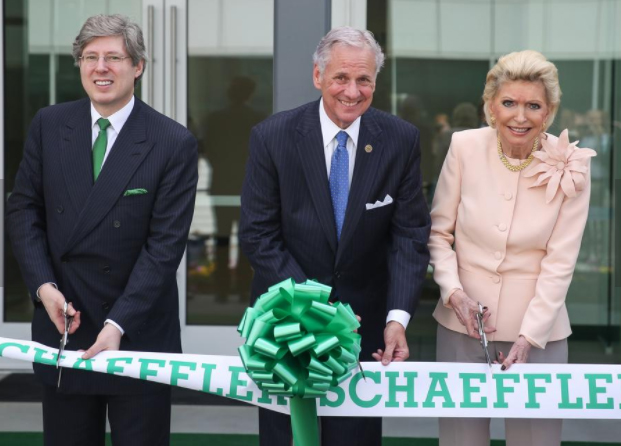 Schaeffler expanded its apprenticeship program that it started at its Cheraw plant in Chesterfield County to York County. During its five-hour celebration, 20 apprentices from the program at York Tech were present for pictures and questions.
For the Fort Mill campus, it was a hugely important day for the approximately 1,300 employees on Schaeffler's 60 acres off Interstate 77 in northern York County. For the first time in about 10 years, two Schaeffler family members that own about 75% of the stock in the company are visiting.
They are Maria-Elizabeth Schaeffler-Thumann, deputy chairperson of the Schaeffler AG supervisory board, and her son, Georg Schaeffler.
Schaeffler-Thumann recalls how she bargained in 1984 with then-S.C. Gov. Richard Riley to establish the Fort Mill plant. Since 1964, Schaeffler operated the Cheraw facility in South Carolina.
"This is where Schaeffler U.S.'s story began in the 1960s," she says.
McMaster called the campus, which now contains a new 64,000-square-foot Americas headquarters, two production plants, a technical center and another support center, "a dream."
"This is exactly the kind of manufacturing we need," he adds. And the jobs are needed.
"We have people who are willing to work, who are smart and who are productive," McMaster says.
Schaeffler announced in January 2015 plans to add 440 jobs and spend $164 million to expand and re-equip six S.C. plants, five of which are in the Charlotte region. That expansion brought 100 new employees to the Fort Mill campus.
Schaeffler's S.C. employment now stands at 3,100. In the last five years alone, Schaeffler has spent $50 million in expanding and Fort Mill 1, Pees says.
At Fort Mill 1, production started about two months ago in the expanded area that includes presses with forces as large as 400 tons. That addition added 30% to the size of the factory floor.
The booming auto industry has been Schaeffler's driver for its recent expansion. The company makes bearings in Fort Mill that are used in automobiles and other industrial applications down to lawnmowers. The company also makes a "variable-cam timing system" that attaches to Ford and other engines to improve fuel economy.
Around the world, Schaeffler is becoming a big player in electric and self-driving vehicles, making transmissions and other components.
View complete article with more photos from the Charlotte Business Journal here.
OR see the video below by CN2 News.
View more news