York County voters breathe new life into Pennies for Progress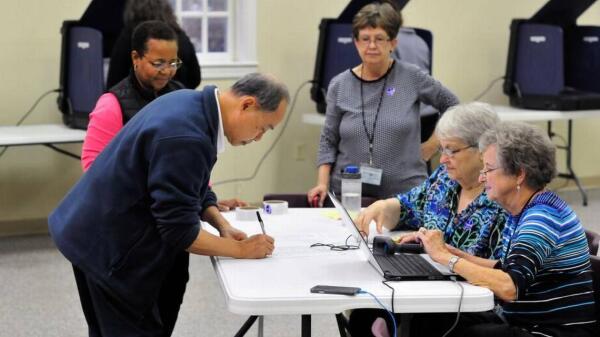 YORK COUNTY, SC -- York County voters appear to have breathed fresh life into a road fix plan that has now spanned 20 years, according to early returns.
Tuesday evening, voters apparently approved by a 3-to-1 margin the $277 million phase of Pennies for Progress program. As of 9:05 p.m., around 77 percent of York County voters who cast ballots said they approved of the special sales tax. By press time, York County elections officials recorded a 5.39 percent turnout of registered voters.
As of 9:05 p.m., 95 of 100 precincts in York County reported their results.
The plan will give the county the authority to continue levying a 1-percent tax on certain goods and services. If you are a resident or visitor who goes to the movies in Rock Hill or shops at places like Home Depot or Dollar General or gets work done on your car, you're contributing to Pennies for Progress.
The money collected will pay for roads and highway improvements that could impact citizens from Rock Hill and Fort Mill in eastern York County to Sharon in western York County.
Since it was first passed in 1997, Pennies for Progress has helped raise nearly $700 million to build, extend or rehabilitate streets and highways in York County.
At a price of nearly $300 million, the Pennies 4 program will be the most expensive roads-fix plan ever in York County.
York County Council chair Britt Blackwell has been supportive of Pennies since its inception. He said it's the best way to support the roads amid the county's growth.
"York County's got a problem, but it's a very good problem to have," Blackwell said. "It's explosive growth. With that comes demand on the infrastructure. The best option for those roads is the Pennies program."
Around 60 percent of the money ($167.92 million) will be used for intersection, widening and new road improvement projects. Around $60 million will be used to complete five projects carried over from the 2011 Pennies 3 referendum.
For the first time, Pennies for Progress has earmarked $50 million for resurfacing projects on more than 80 miles of roads in Fort Mill, Rock Hill, Lake Wylie/Clover, and western York County.
Among the top-dollar projects included in the referendum are $40.51 million for a five-lane widening of Cel-River/Red Road from Eden Terrace to Dave Lyle Boulevard and the Galleria Boulevard extension in Rock Hill, and $35.88 million for a five-lane widening of U.S. 21 from S.C. 160 to Springfield Parkway in Fort Mill.
Pennies For Progress manager Patrick Hamilton said the $50 million in resurfacing projects will make a "huge impact" for York County residents.
The York County Council voted Monday night to approve a $16 million "jump-start" loan for Pennies 4 projects. Hamilton said that will help speed up the bidding and consulting process on new projects.
With that loan, Hamilton said the county will be able to start working on design for nearly all Pennies 4 projects by this spring.
"The tax won't begin collecting until May 1," he said. "So we will have all of that done before the tax begins collecting. We want to do all we can to get these projects done as quickly as we can."
The votes will be officially certified by the York County Board of Voter Registration and Elections later this week. 
View more news