The Migration to York County | Where Are New Residents Coming From | Part 2
Now that we have laid the groundwork and data in our previous blog as to why people move here, let's dig into where these new residents are coming from.
Where Do Our New Residents Come From?
What are some of the other factors driving migration to York County? The American Community Survey (ACS) 2014-2018 shows that York County gained 18,127 new citizens through domestic migration during that five-year period. When we rank the data by state, we find the majority (more than two-thirds) of our new residents already live in the Carolinas. For other inbound new residents, New York, Florida and Georgia round out the top five. Interestingly, New York took the #2 spot for the top outbound state in the United Vans national study, so local trends seem to align well with national data – there appears to be a lot of folks moving out of the Northeast. The COVID-19 pandemic has likely accelerated this trend.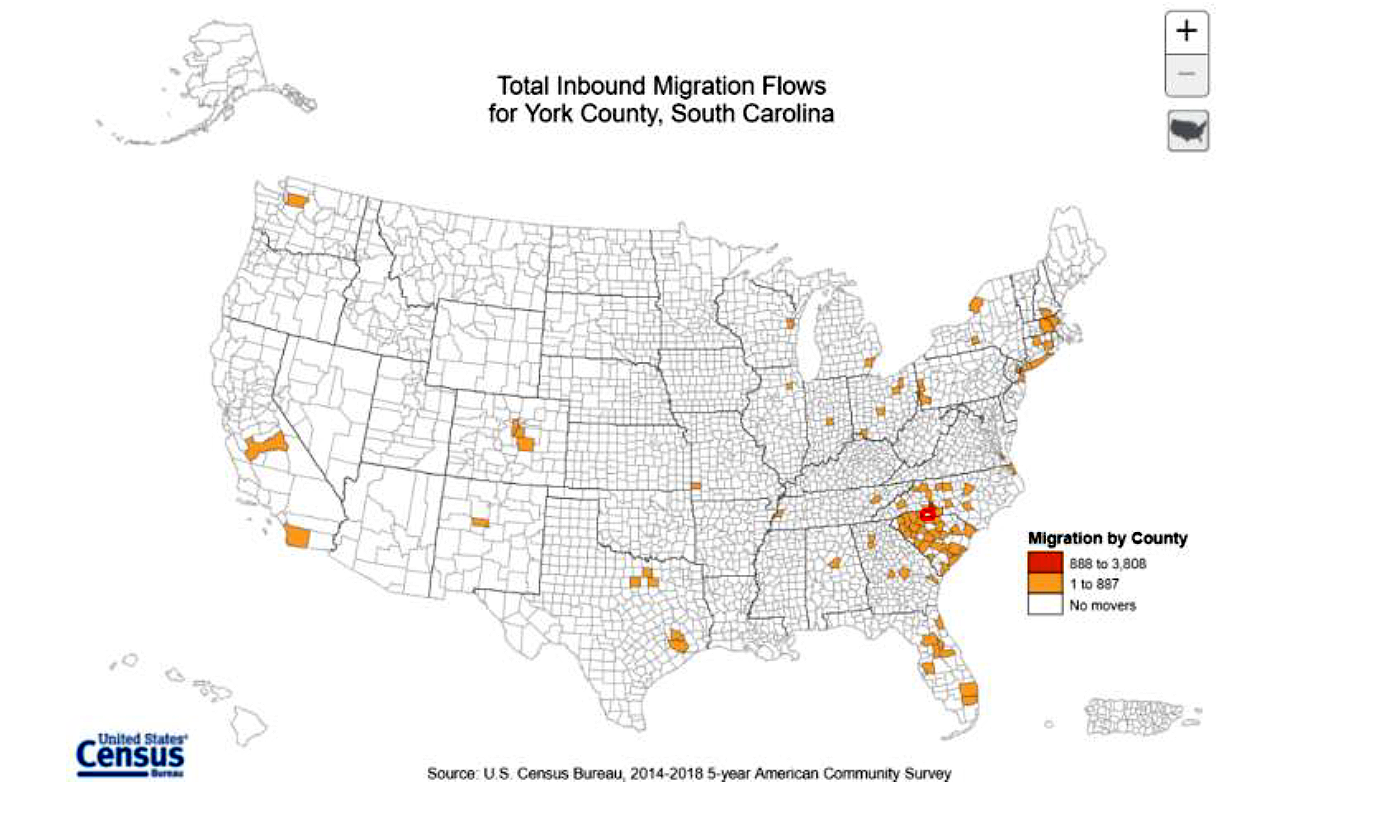 While state-to-state migration supports employment as the main reason most people move to our area, it's not the full story. When we rank migration data by county we find that the bulk (over 20%) of our new inbound residents moved here from neighboring Mecklenburg County. If jobs are the main force bringing people to the Charlotte region, then family and lifestyle choices are leading them to cross the border into York County.
The latest data from the U.S. Census Bureau, On The Map feature further proves that quality of life choices are attracting regional residents to York County. As of 2018, more than 68,000 workers commuted out of York County daily for work, the vast majority traveling north into neighboring Mecklenburg County. So the fact that our largest cohort of inbound residents are former Charlotteans, who move here and then continue to drive back to Charlotte on a daily basis, attests to the top notch quality of life and affordability offered in York County.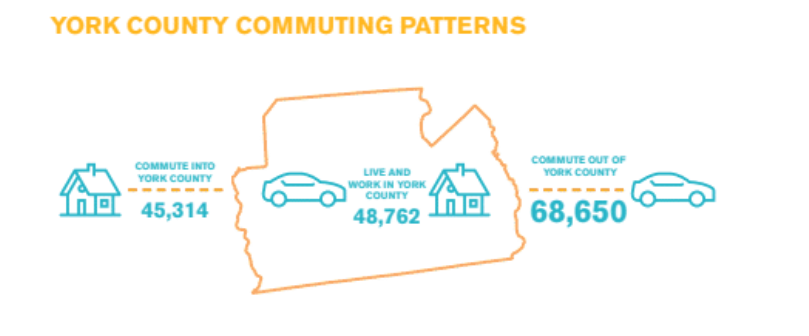 Source: US Census Bureau, On The Map 2018, Inflow/Outflow Analysis, All Primary Jobs
So what is it about a York County lifestyle that is appealing to so many? Maybe they come to relax and enjoy the beautiful waters of the Catawba River and Lake Wylie? Or sports fans drawn in by the world-class amateur sports facilities like the Giordana Velodrome and BMX Supercross Track – all open to the local residents. Perhaps it's our top rated public school districts attracting young families. Or, maybe the word has gotten out about the favorable tax rates and the more "bang for your buck" housing stock.
With perhaps a plethora of reasons leading to this data, the migration patterns clearly speak for themselves, York County's draw is real, and likely here to stay.
View more news